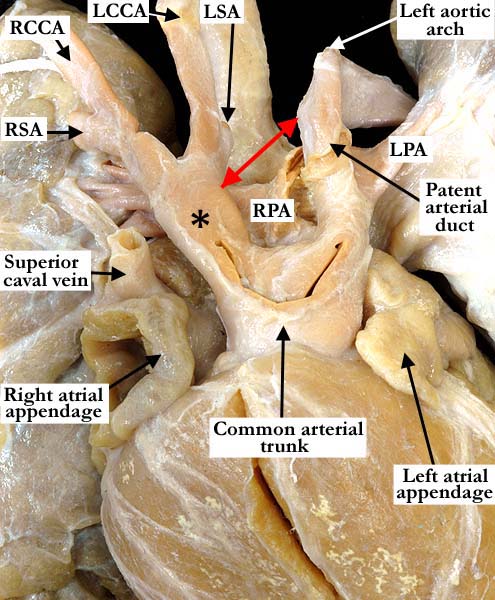 Modality: Anatomic specimen
Orientation: Anterior view
Description: This anterior anatomic view illustrates a common arterial trunk with and interrupted aortic arch. The ascending aorta (asterisk) extends from the common trunk to give rise to the brachiocephalic vessels with a normal branching pattern. The aortic arch is interrupted (red double headed arrow) distal to the left subclavian artery (LSA) and proximal to the arterial duct. The patent arterial duct maintains the connection between the common arterial trunk and the descending aorta. The aortic arch extends to the left. The right (RPA) and left (LPA) pulmonary arteries bifurcate from a common pulmonary trunk that arises from the posterior aspect of the common trunk. (RSA-right subclavian artery, RCCA-right common carotid artery, LCCA-left common carotid)
Contributor: Diane E. Spicer, BS
Institution: The Congenital Heart Institute of Florida (CHIF)
Image Label: A090102-89a
Image Source: Medical University of South Carolina
Image Certification: pending
AWG Rating: pending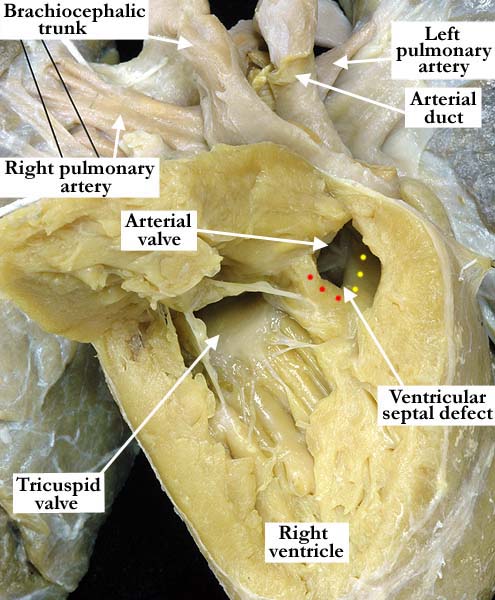 Modality: Anatomic specimen
Orientation: Right ventricular view
Description: In this anterior view, the free wall of the right ventricle has been lifted away to show the septal structures and the restrictive, ventricular septal defect. The subarterial ventricular septal defect lies within the 'Y' of the septal band and has a posterior inferior muscular rim (red dots). The yellow dots illustrate the anterior superior portion of the septal band. The arterial or truncal valve overrides the ventricular septum and the arterial trunk is more committed to the left ventricle. The tricuspid valve guards the inlet of this morphologically right ventricle.
Contributor: Diane E. Spicer, BS
Institution: The Congenital Heart Institute of Florida (CHIF)
Image Label: A090102-89b
Image Source: Medical University of South Carolina
Image Certification: pending
AWG Rating: pending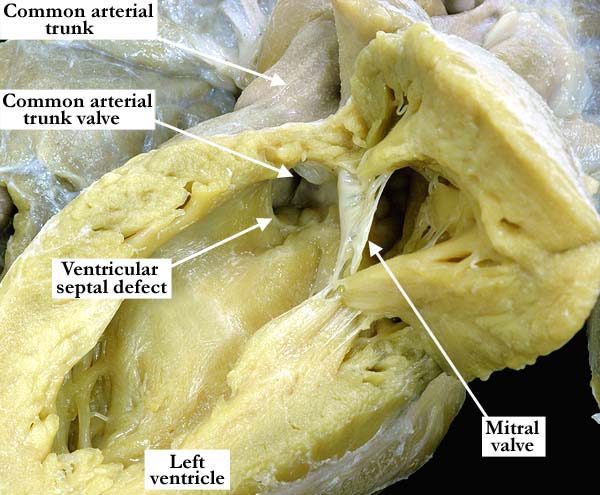 Modality: Anatomic specimen
Orientation: Left ventricular view
Description: The free wall of the left ventricle has been lifted away to show the left ventricular septal surface and the restrictive, subarterial, ventricular septal defect. There is a tri-leaflet common arterial trunk valve that lies mostly to the left of the interventricular septum. The mitral valve guards the inlet.
Contributor: Diane E. Spicer, BS
Institution: The Congenital Heart Institute of Florida (CHIF)
Image Label: A090102-89c
Image Source: Medical University of South Carolina
Image Certification: pending
AWG Rating: pending