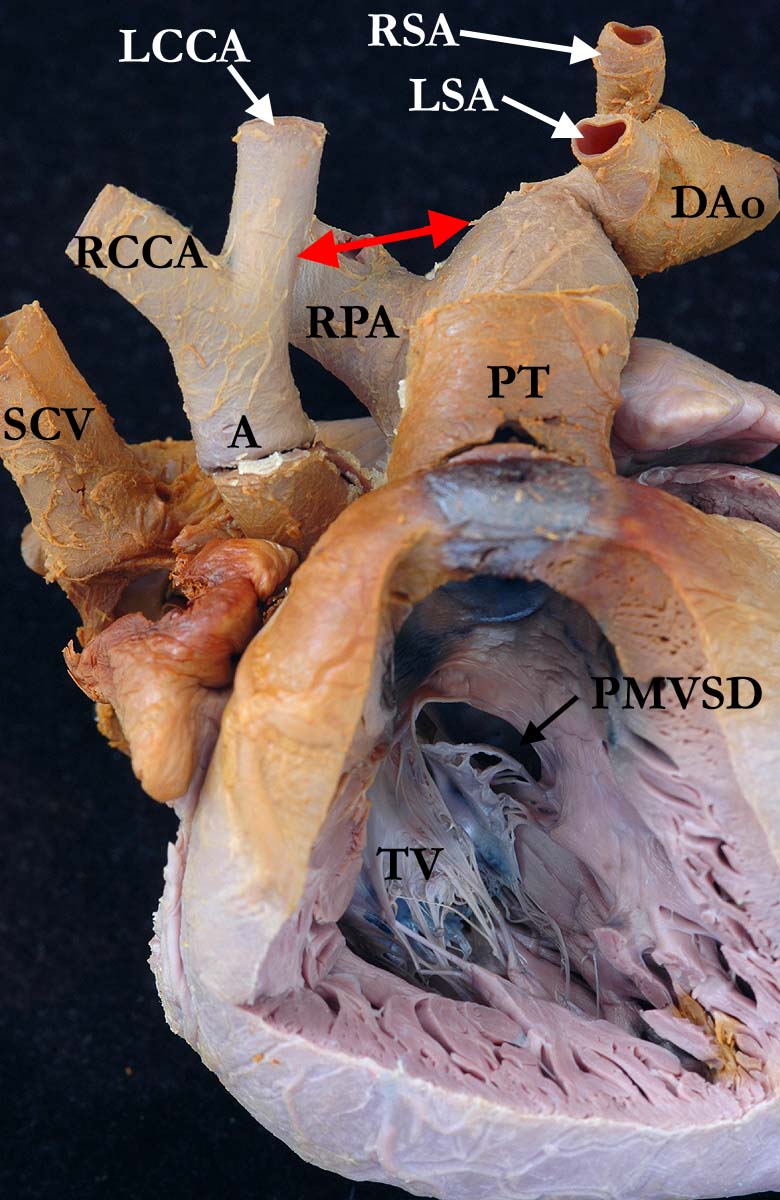 Modality: Anatomic specimen
Orientation: Right ventricular view
Description: This view shows the anterior, anatomic view of the right ventricle and great vessels, the free wall of the right ventricle has been dissected away. The tricuspid valve (TV) can be seen in the inlet. A perimembranous ventricular septal defect (PMVSD) extends into the outlet portion of the right ventricle, an alternative term is a malalignment ventricular septal defect. There are concordant ventriculo-arterial connections, the aorta (A) and pulmonary trunk (PT) normally related, with a hypoplastic ascending aorta. The aorta is interrupted (red arrow) between the left common carotid (LCCA) and the left subclavian (LSA) arteries. There is distal retroesophageal origin of the right subclavian artery (RSA). (DAo-descending aorta, RCCA-right common carotid artery, RPA-right pulmonary artery, SCV-superior caval vein).
Contributor: Diane Spicer, BS
Institution: The Congenital Heart Institute of Florida (CHIF)
Image Label: A092934-20a
Source of Image: Van Mierop Archive, University of Florida, Gainesville, FL
Image Certification: 4 Feb 2012 (rediscussed 3 March & 8 September 2012)
AWG Rating: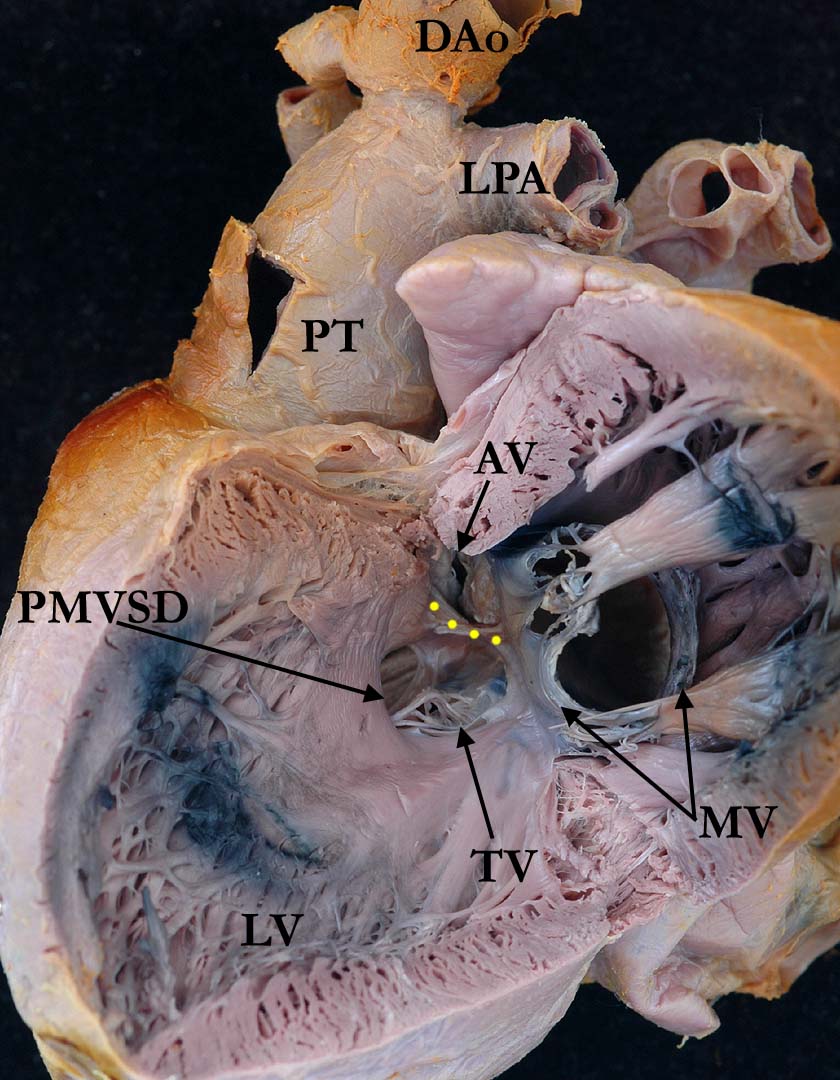 Modality: Anatomic specimen
Orientation: Opened left ventricle in clamshell fashion
Description: This view shows the septal surface of the left ventricle (LV), revealing the posterior malalignment of the muscular outlet or infundibular septum (yellow dotted line), which indicates that the perimembranous defect (PMVSD) is of the posterior malalignment type. The malalignment also encroaches markedly on the subaortic outflow tract, and almost certainly produces obstruction. The tricuspid valve (TV) can be seen through the ventricular septal defect and is in fibrous continuity with the mitral valve (MV). (AV-aortic valve, DAo-descending aorta, LPA-left pulmonary artery, PT-pulmonary trunk).
Contributor: Diane Spicer, BS
Institution: The Congenital Heart Institute of Florida (CHIF)
Image Label: A092934-20b
Source of Image: Van Mierop Archive, University of Florida, Gainesville, FL
Image Certification: 4 Feb 2012 (rediscussed 3 March & 8 September 2012)
AWG Rating: